I've been wanting a computer case/cover for quite some time, but for some reason never got around to making one. I finally did and I'm pretty pleased with the way it turned out!
Yes, I'm still obsessed with ruffles....why do you ask?!? Seriously though, I looked around my little nook and EVERYTHING has been ruffled...I'm like King Midas--only everything I touch gets ruffles ;)
I padded it with simple batting because that's all I had on hand(and to be honest, my sad little brain didn't remember that it needed to be padded until I was about to whip it together....durrrr). Next time I make one, I'll use something that'll give a little more protection.
I'm still head-over-heals for this Heather Bailey, Nicey Jane fabric and I'm almost out! Noooooo! Time for another purchase with some of the birthday money I have left over, even after my lens purchase :) Love when I make my money go a long way!
I ended up using this particular cover for Aubrey's little travel DVD player, it fit "llllllllike a glllove"....Ace Ventura anyone?!?...no?? Ok. So I'll just have to make another one...oh well ;) My next move is to figure out how to add/make a little pouch/pocket to put the charger cord in....
~~~~~~~
Happy Mother's Day to all the moms!!
~~~~~~~
Linking Up....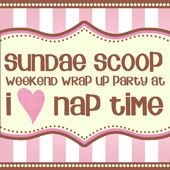 <